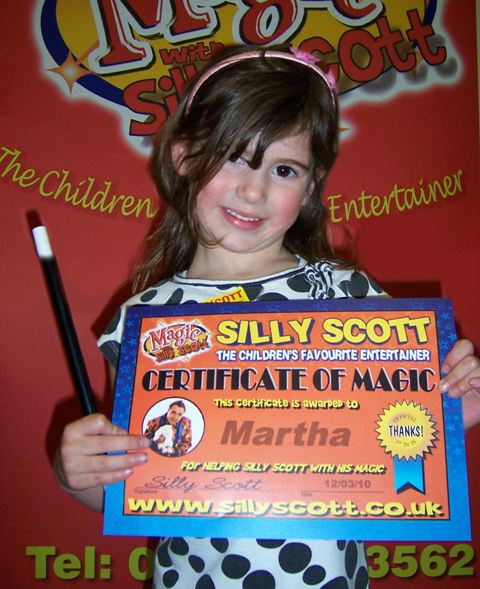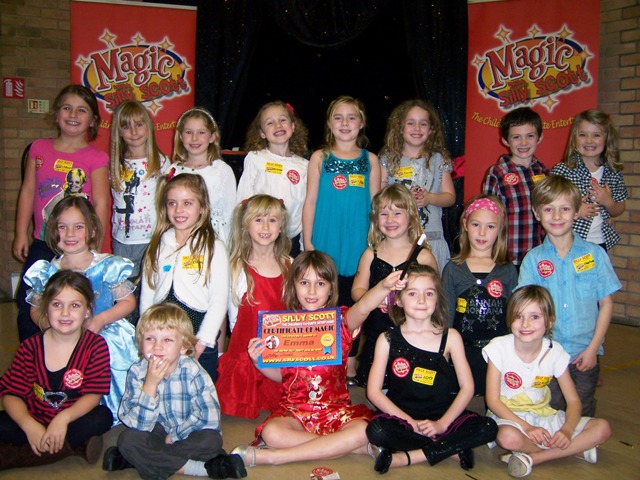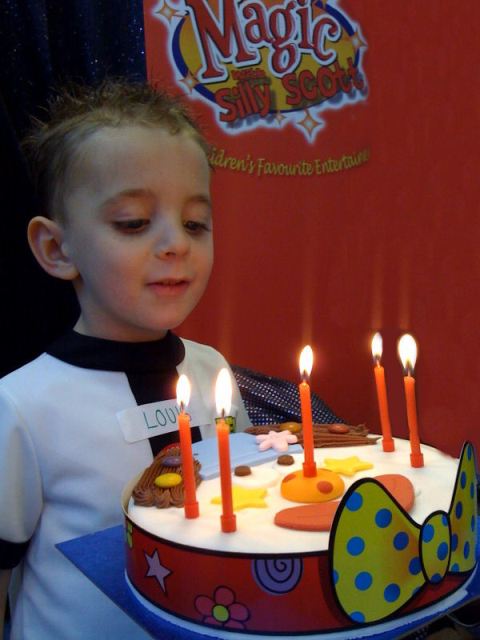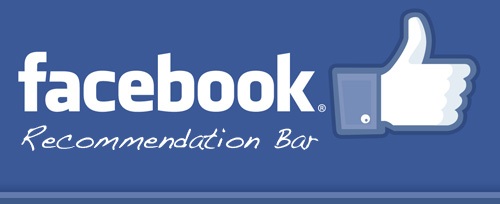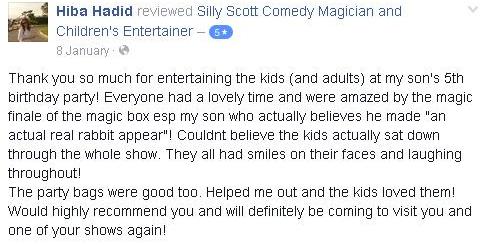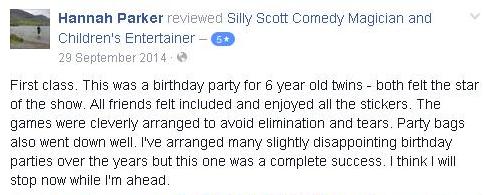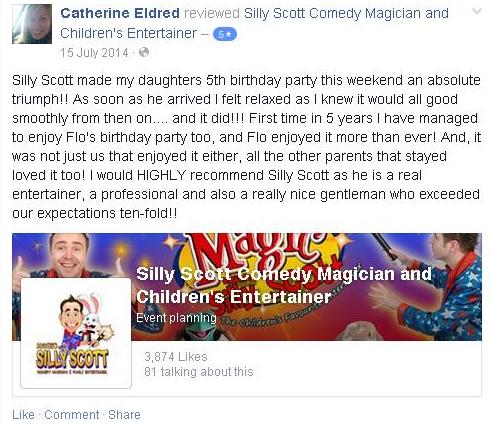 Check out SILLY SCOTT REVIEWS on my Facebook page.
Click the link below for over 100 reviews from happy parents.
https://www.facebook.com/sillyscottmagic/reviews?ref=page
Hi Scott

We just wanted to say a massive Thank You to you for a fantastic party yesterday. Kahlen and her friends had a wonderful time.
The only regret we have is that we didn't have your party bags because that felt the most stressful bit on the day, matching bags with children!

You clearly love your job and you made our little girl's birthday very very special! You will definitely be highly recommended.

We hope to see you and your show again!

Thanks again,

From Nikki, Gary and Kahlen, Surrey

Hi Scott,
I just wanted to say a big thank you to you for entertaining all the children at Charlies birthday party today. All the children really enjoyed it, and the mums that stayed commented that they thought you were fantastic, and that your show was like no other they had seen! Thanks again.

Anna Bloor, Southampton

Dear Silly Scott & Kirsten The Magical Face Painter

Just had to send you an email to say a big thank you for such a brilliant party yesterday. Oscar thoroughly enjoyed himself and hasn't stopped talking about you. We thought both you and Kirsten were very professional, friendly and down right brilliant and have received many compliments.

Thank you so much for makings Oscar's 5th birthday so memorable.

Please don't hesitate to pass on my details should you require a reference as I would be more than happy to recommend you. Really looking forward to seeing your Christmas show at Upton Grey Toddler Group in December with my younger daughter, Jemima.

Many, Many Thanks

Ruth Beard, Upton Grey, Hampshire

Dear Scott

I'm sure you're already aware how popular you are but wanted to pass on my five year old's comment...
He said "I want silly scott's pirate party, then the Xmas party, and then the wizard party". When I pointed out he could only have one he said "I won't be six forever!" ...So, that's him sorted until his 9th birthday then!

Many thanks

Nicky George, Petersfield, Hampshire

I just felt I needed to send you an email to say the party you done for Jack was fantastic and Jack said it was the best party ever, all his friends at pre-school and parents too were talking about it on the Tuesday. Also your party bags are such great value, and saved all the hassle.

Thanks again

Andrea Fancourt, Hedge End, Southampton

Hi Scott

Thank you so much for the brilliant entertainment that you provided yesterday for Daniel's party. We both enjoyed it and I'm sure his friends did too. Thank you for coping so well with the disruptive ones! I'm sure the party would've ended in disaster if not for your expert approach!

Daniel has been using his magic wand but unfortunately it isn't working quite as well for him, even though he keeps saying the magic words! It's probably for the best as he's trying to turn me into a frog!

Thanks again

Lisa (& Daniel) Ginn, Worthing, West Sussex

Dear Scott

Just a note to say thank you very much for Luke's party on Saturday. I asked him what he thought of it and he said it was " Amazing " and that it was the best party he has ever been to. Some of the other mum's & dad's said that their children said roughly the same thing!! The look on his face when you did the magic with him was priceless, he was on cloud nine for the rest of the day.

Thank you so much

Best Wishes

Julie Thorne, Portsmouth, Hampshire

It's taken me 11 years and 4 children, and i've finally found a fantastic entertainer. Thank you so much, you were AMAZING!!

Mrs Short, Haslemere, Surrey

You were Absolutely fantastic! We had a great time and that was just the adults!...I think the children enjoyed themselves as well.
The whole prcedure and experience was very organised and I especailly like the phone call a few days before, it reassured me I hadn't been forgotten. I can't thank you enough you were brilliant, an all round family entertainer.

Mrs Hearning, Reading, Berkshire

Dear Scott

Just a quick note to thank you for a great service on Sunday in difficult circumstances due to the weather, and to that extent we are very grateful. We had so many comments on how great the children's show was - our friends little boy thinks he has real magic as he magic'd the rabbit from the hat! Not sure that he has stopped talking about it! Also the close up magic was fantastic and the face painting was superb - spider-man even wore his painted face to bed!

We will certainly be calling on you again for our next party!

Thanks

Russell & Abi Tate, Bishop's Waltham, Hampshire

Dear Silly Scott

A huge thankyou for my sons birthday party he really enjoyed himself and i think the adults did too !!! my sons friends haven't stopped talking about silly scott!! i will certainly recommend you !! my son is a selective mute and he waved and said "bye" after you left!!!

Once again a huge thankyou from a very happy mum and five year old x
Claire Hibbert, Foxfield Nr Petersfield

A good few of the parents have come up to me and told me their children have said it was the best birthday party they have been to.
You and Kirsten were fantastic , i only hope we can find someone as good as you when we move to New Zealand next year.
Thank you to you both for making Liana's 5th (and her first ever) birthday very special and memorable
Mandy & John Willingham, Gosport, Hampshire

Hi Silly Scott.

I just wanted to send you an email to say how much everyone enjoyed Lauren''s party last week, both children and adults!

It was Lauren''s first party which she thoroughly enjoyed and I was impressed on how stress free it was for me with you captivating the children throughout the whole party.

I have received alot of nice comments and I know friends are already thinking of booking you for their children''s parties.
I would have no hesitation in recommending you to future customers.

Joanna Thompson, Farlington, Portsmouth

Dear Scott

I wish to email you to say how very grateful i am for you producing such an enjoyable party for my son Zach's 5th birthday. The children thoroughly enjoyed themselves and are still talking about it. One child has already told his parents he wants to be a magician when he grows up just like Silly Scott.
Its the first official party with all my son's school friends there and it can be a daunting experience but you made me feel completely at ease and your act was well worth the wait (zach's opinion). Zach is already planning his 6th birthday (pirate theme) party because he wants me to book you well in advance.
I know some of the parents were impressed by how well the children were entertained for the 2hrs that they are i am sure to contact you in the future for their kids birthday parties.

I will most definately be highly recommending you to anybody. Once again thank you so very much for making Zach's birthday party one that he will remember with fond memories.

Ava Price - Bognor Regis, West Sussex.

Hi Scott, I just wanted to say a big big thank you for a brilliant brilliant party on Saturday. Grace had an amazing time and wonít stop using her new found Ďmagicí power, the magic wand goes everywhere she does. I can honestly say itís the first party Iíve actually been able to relax and enjoy. Thanks again.

Kindest regards, Tracey Smith, Portsmouth

THE NEWS COVER PAGE STORY ABOUT " SILLY SCOTT "
read this article ( click here ) read this article ( click here ) read this article ( click here )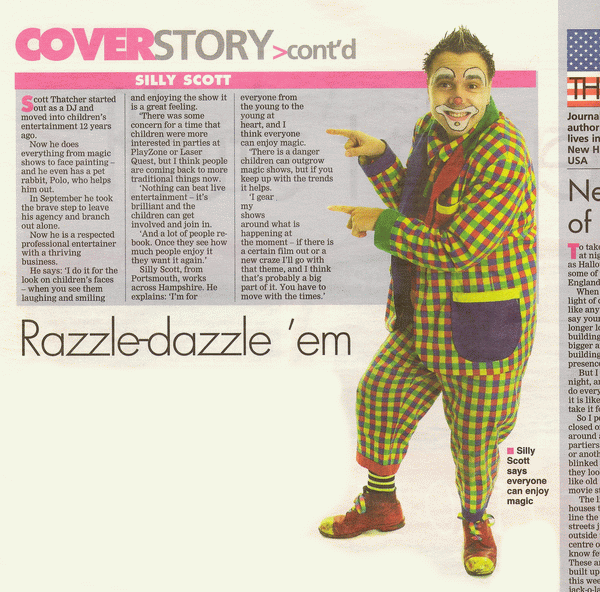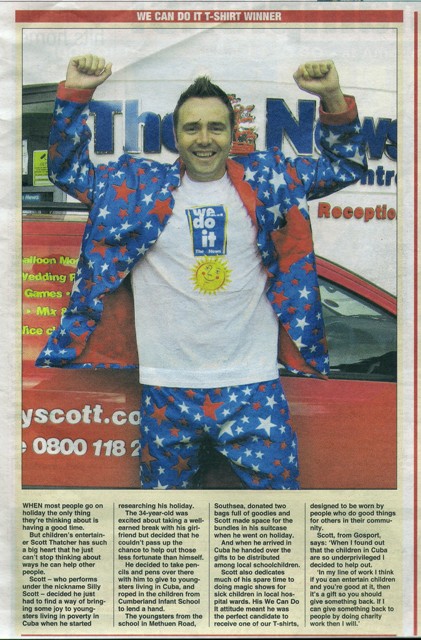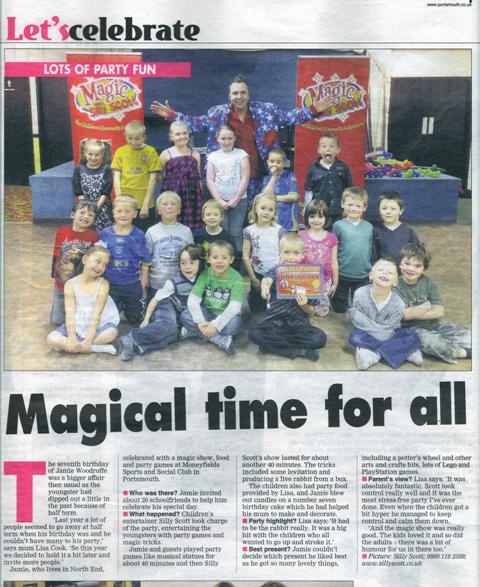 HYDE HOUSING RESIDENTS FUNDAY ( click here )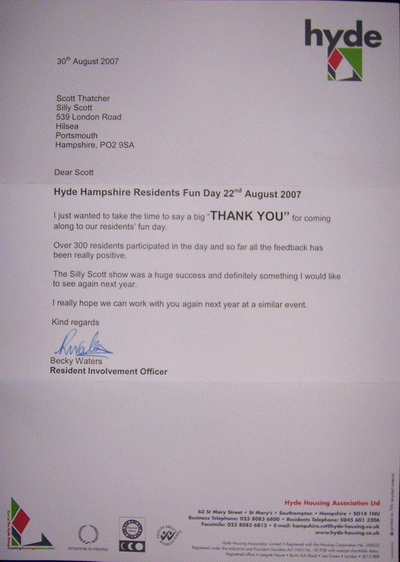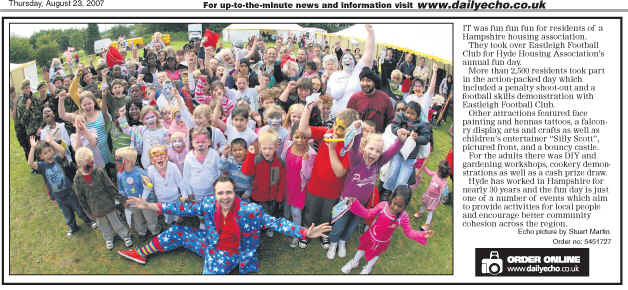 HARRY POTTER CHARITY FILM PREMIERE ( click here )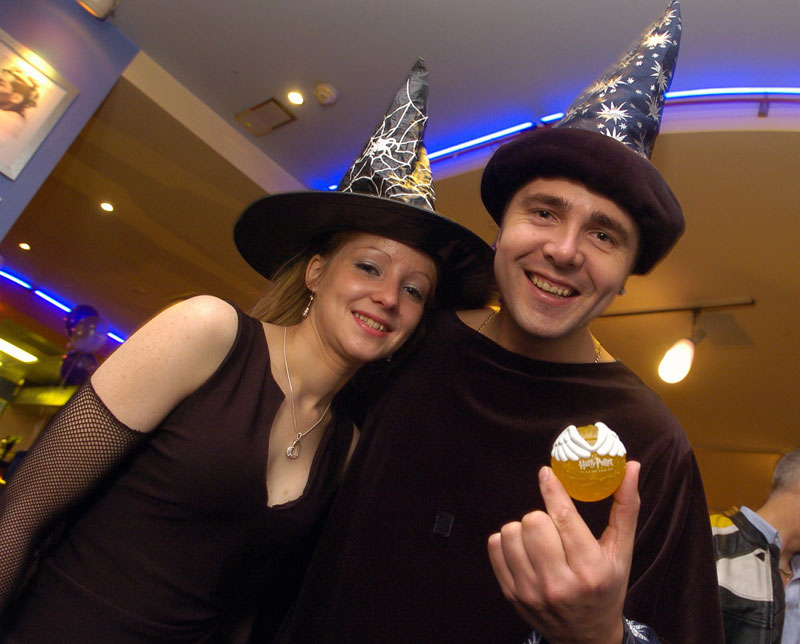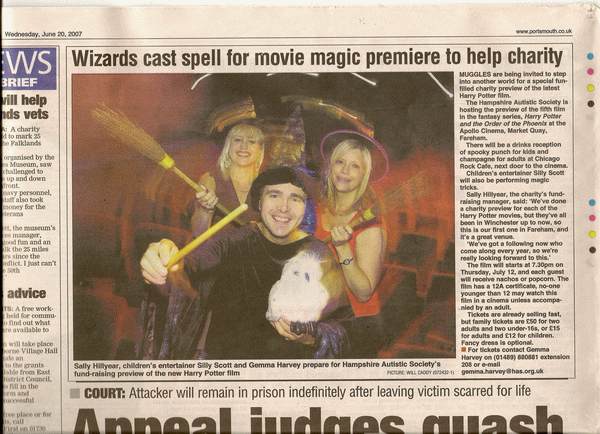 SPINNAKER TOWER - EASTER CELEBRATIONS ( click here )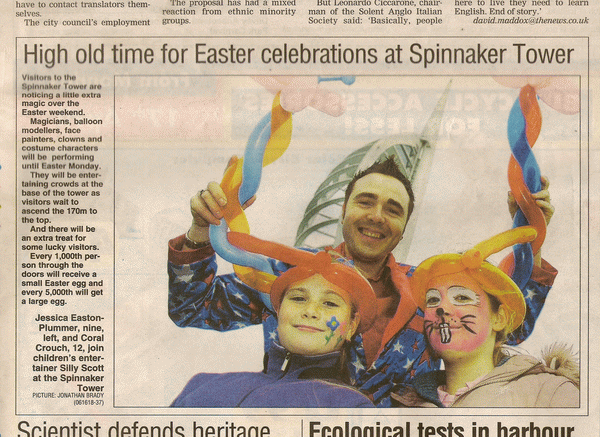 SILLY SOCKS DAY - CHARITY HAMPSHIRE AUTISTIC SOCIETY ( click here )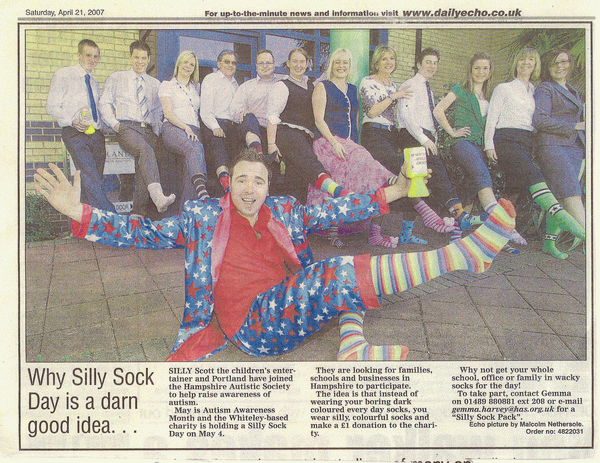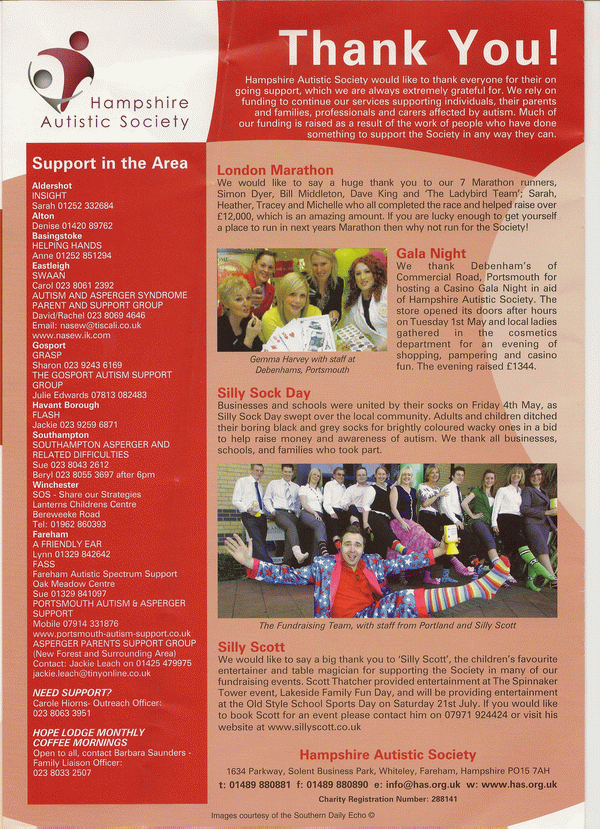 CASCADES SHOPPING CENTRE - CHRISTMAS LIGHTS SWITCH ON ( click here )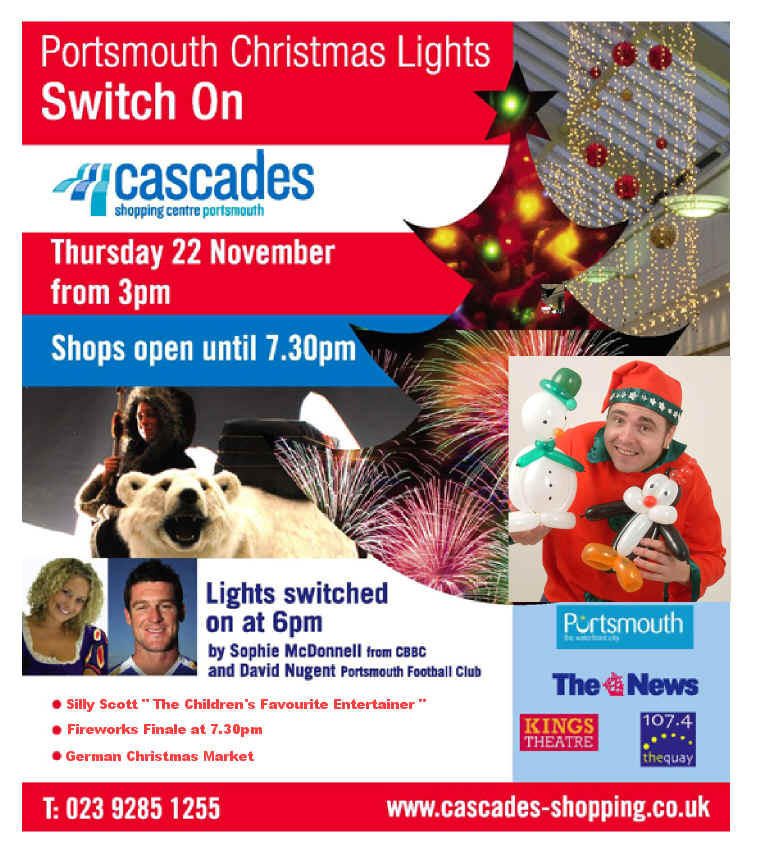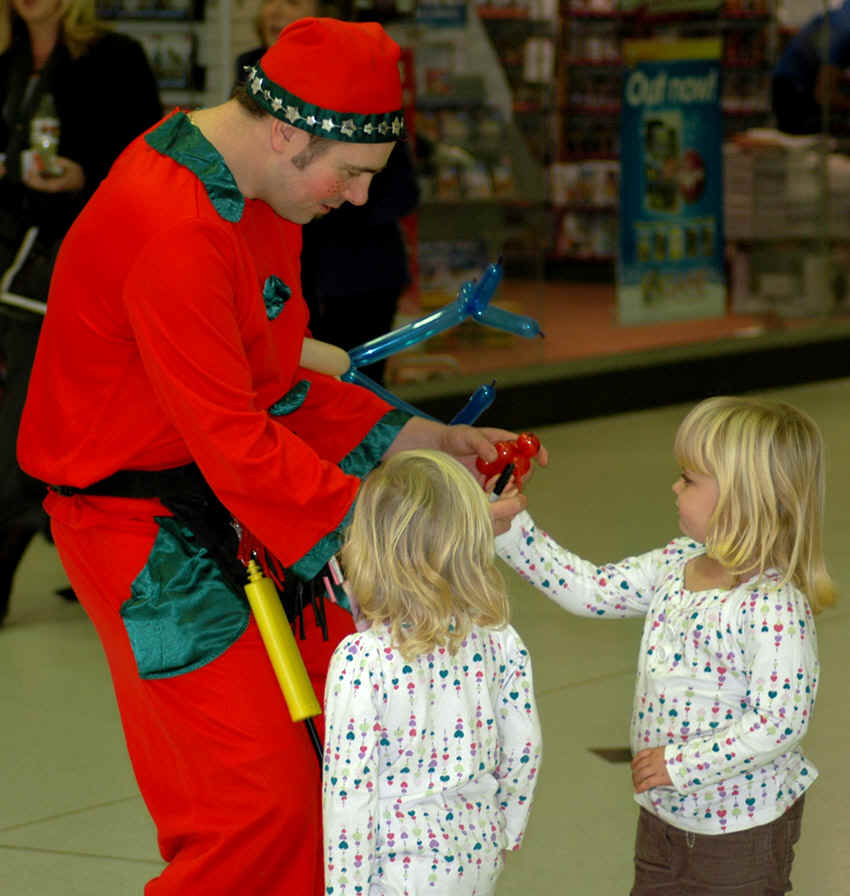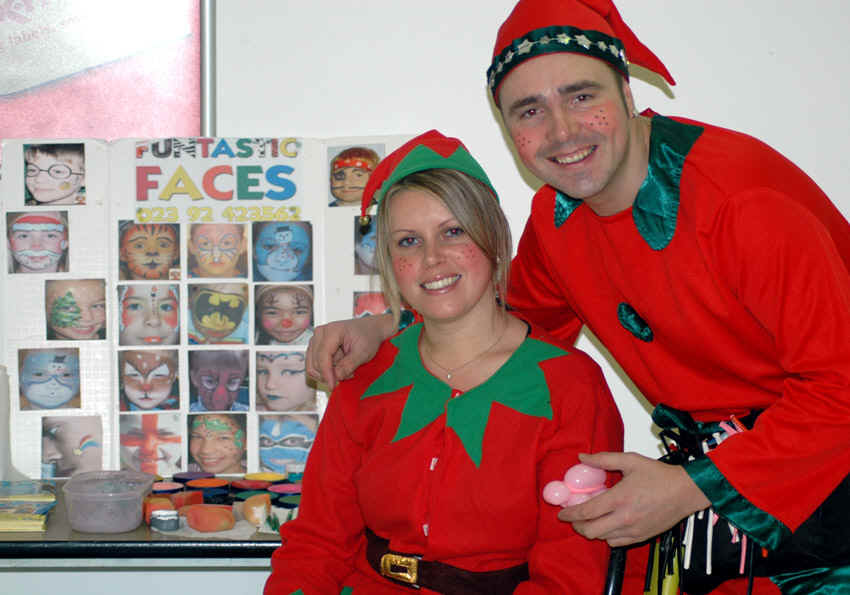 X FACTOR RUNNERS UP - SAME DIFFERENCE ( click here )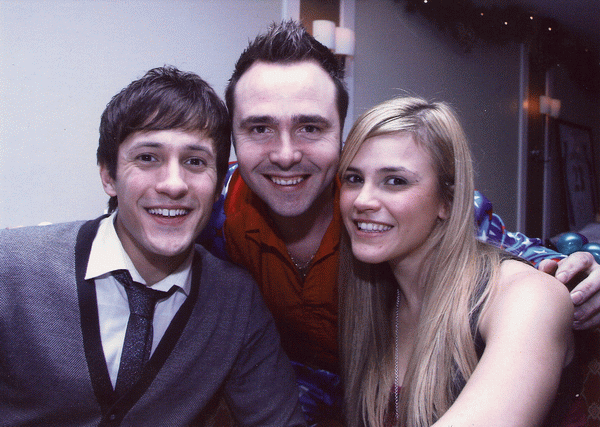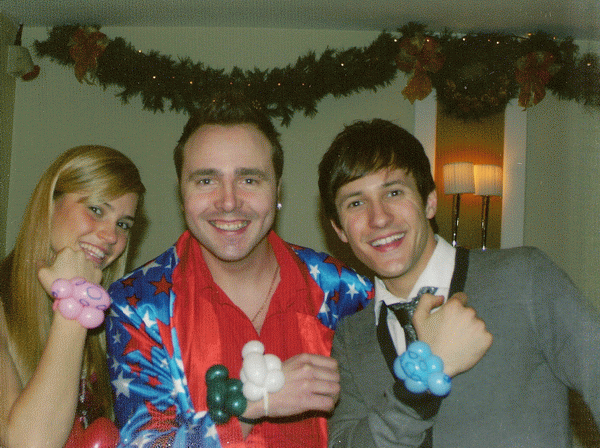 Silly Scott is privileged to work alongside some fantastic charities such as
POD and The Hampshire Autistic Society.

POD
Pod charity working with sick children in hospital - Over the last 25 years, POD has helped to bring a little magic, fun and laughter into the lives of many thousands of sick children in hospital.

HAMPSHIRE AUTISTIC SOCIETY
Our mission is to give choice, opportunity, professional advice, education, support and care to all those affected by autism so as to enable them to fully achieve their potential.

Raising money can be hard work, but also very rewarding and lots of fun. There are many ways in which you can help us to continue to provide the vital services for people and their families coping with the affects of autism.
Click Here to see the lastest way you can support this charity
http://www.has.org.uk/past_events/Harry_Potter_2007.htm