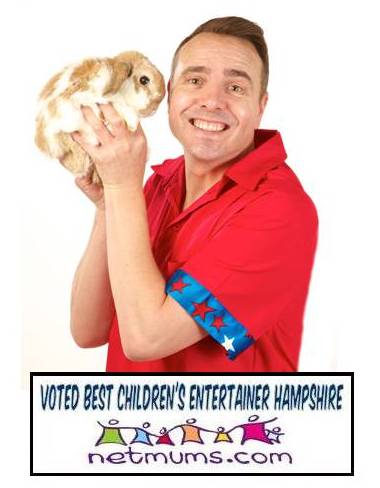 Finding the right entertainment for your child's party can be daunting, as you want to ensure you show them how much you care and turn their party into a treasured memory that will last a lifetime. You can't rewind the day and only get one chance at making it the best ever, as the entertainment you choose will always determine the overall success of the party! If the entertainment is good, then everything else will fall into place it will be an enjoyable stress free experience for you and make your party the talk of the playground.

Silly Scott is the UK's busiest and most loved multi-award winning family entertainer, his show is fun for all ages of children and being a family show the adults are in oar of the show as much as the children and thoroughly enjoy themselves too!

Click the link to watch one of his multi-award winning performances: https://vimeo.com/91307372

Don't just let me tell you how good my show is!! SILLY SCOTT has more 5 star REVIEWS on Facebook than any other childre's entertainer in Portsmouth and surounding area.

https://www.facebook.com/sillyscottmagic/reviews?ref=page
If you are looking to hold a Children's Party in Portsmouth with a FULLTIME Professional Children's Entertainer. Here is a list of Halls and Community Centres in and around Portsmouth.

PORTSMOUTH AREA
Westover Community Centre
Westover Rd
Baffins
Portsmouth
Hampshire
PO3 6NS
Tel: 02392 691591
Highbury Community Centre
Hawthorn Crescent
Cosham
Portsmouth
Tel: 02392 371311
Church or Resurrection Hall
Brecon Avenue
Drayton
Hampshire
PO6 2AW
Tel: 023 92421849
Stamshaw & Tipner Leisure Centre
69, Wilson Rd
Portsmouth
Hampshire
PO2 8LE
Tel: 023 9269 3221
Wymering Methodist Church Centre
Sixth Avenue
Cosham
Portsmouth
Hampshire
PO6 3PD
Tel: 023 9238 2131
Howard Road Community Centre
11b Howard Road
Hilsea
PO2 9PR
Tel: 023 92 650068
Fratton Community Centre
Trafalgar Place
Portsmouth
Hampshire
PO1 5JJ
Tel: 023 9275 1441
Buckland Community Centre
Malins Rd
Buckland
Portsmouth
Hampshire
PO2 7BL
Tel: 023 9269 2914
John Pounds Centre
23 Queen Street
Portsea
Portsmouth
PO1 3HN
Tel: 023 9289 2010
Portchester Community Centre
Community Centre
Westlands Grove
Portchester
PO16 9AD
Tel: 02392 210070
Portchester Parish Hall,
Castle Street,
Portchester,
Hampshire,
PO16 9PY
Tel: 023 9259 6636
Castle Street Centre
Castle Street
Portchester
Hampshire
PO16 9QN
Tel: 02392 221165
High Slopes Community Hall
Carlton Road
Paulsgrove
Portsmouth
PO16 8JH
Tel: 07983 852553
Paulsgrove Community Centre
Marsden Rd
Paulsgrove
Portsmouth
Hampshire
PO6 4JB
Tel: 023 9237 0643
Brunel Community Centre
Wymering Rd
Portsmouth
Hampshire
PO2 7HX
Tel: 023 92 663444
Anchorage Park Community Centre
Sywell Crescent
Portsmouth
Hampshire
PO3 5TS
Tel: 023 9267 2731

Clanfield Memorial Hall
South Lane
Clanfield
Hampshire
Tel: 02392 571425
Cowplain Activity Centre
Padnell Rd
Cowplain
Waterlooville
Hampshire
PO8 8EH
Tel: 023 9226 7029
Milton Village Hall
Milton Rd
Southsea
Hampshire
PO4 8PR
Tel: 023 9287 3788
St. Marks Church Centre
Derby Rd
Portsmouth
Hampshire
PO2 8HR
Tel: 023 9266 5753
Hart Plain Church
Hart Plain Avenue
Waterlooville
Hampshire
PO8 8RP
Tel: 023 9225 4452
Waterlooville Community Centre
10 Maurepas Way
Waterlooville
Hampshire
PO7 7AY
Tel: 023 9225 6823

Springwood Community Building
110 Springwood Avenue
Waterlooville
Hampshire
PO7 8BJ
Tel: 023 9223 0330

Clanfield Memorial Hall
South Lane
Clanfield
Waterlooville
PO8 0RB
Tel: 02392 711950

Clanfield Masonic Hall
19a, Five Heads Road
Horndean
Waterlooville
PO8 9NW
Tel: 023 9259 1022
1st Clanfield Scout Hut
Hyden Lodge
Little Hayden Lane
Clanfield
Tel: 023 92 597043
Westbrook Hall
Tempest Avenue
Waterlooville
Hampshire
PO7 8NU
Tel: 02392 266729 or 07968 296 894
Phoenix Community Centre
Crookhorn Lane
Waterlooville
Hampshire
PO7 5QB
Tel: 023 9224 0114
St Jonh's Church Hall
London Road
Purbrook
Hampshire
PO7 5RS
Tel: 023 9226 8534
St. Swithuns Church Hall
105 Waverley Road
Southsea
PO5 2PL
Tel: 023 9282 8305
Jubilee Hall
Crouch Lane
Catherington
Hampshire
PO8 9SU
Tel: 023 9259 7766
Catherington Village Hall
Catherington Lane
Hampshire
PO8 9SU
Tel: 023 9259 2520
Waterlooville Community Centre
10 Maurepas Way
Waterlooville
Hampshire
PO7 7AY
Tel: 023 9225 6823
Napier Hall
Portsmouth Rd
Horndean
Waterlooville
Hampshire
PO8 9NL
Tel: 023 9259 7766
Lovedean Village Hall
Lovedean Lane
Lovedean
Hampshire
Tel: 023 9259 6636
Drayton Institute
283 Havant Road
Drayton
PO6 1PA
Tel: 02392 371109

St Nicholas Church Centre
Belmont Grove
Bedhampton
Havant
Hampshire
Tel: 02392 454184

Stacey Centre
Walsall Road
Copnor
Portsmouth
PO3 6DN
Tel: 02392 617890

Cosham Baptist Church
Havant Road
Cosham
Portsmouth
PO6 2QZ
Tel: 02392 324688

The Link
48 Havant Road
Cosham
Portsmouth
PO6 2QZ
Tel: 02392 324688
St Andrew's C Of E Church Hall
Havant Road
Portsmouth
Hampshire
PO6 1AA
Tel: 02392 387571
INFORMATION WHEN BOOKING A CHILDREN'S ENTERTAINER
It is a source of great sadness to me when I hear or read about parents and party organisers who speak in truly negative terms about their experience of an entertainer.

"He didn't really manage to control the children."

"I could have done her job much better myself."

"He never told me what he was planning to do."

It is clear to me that children's entertainer's differ greatly across the board.

Any looking for abit of extra income can set themselves up as a children's entertainer but that does not mean they are any good. If you are used to paying £100 or less for your entertainer then, no doubt the above is probably what you have experienced. So for those of you who are unaware; there is a fabulous alternative to this type of entertainer.

I am a professional children's entertainer. This is not my part-time job. This is what I do for a living. I am equity registered. I am public liability insured. I hold full public liability insurance, all equipment that i use is P.A.T tested and have both CRB enhanced Police Check and an NHS safe Guard Certificates which I renew regularly.

When I arrive at a party; I am fully costumed and already performing. I bring along with me everything i need, so no need to borrow a table or extension leads ect. My props are colourful clean and all logoed with Silly Scott, i also bring two pop-up banners with colourful graphics on them, a smart curtain back drop and PAT tested professional pa system with radio handheld and headset microphones.
I run all my music off an ipod which allows for the slick transfer of one tune to another. Everything takes me less than ten minutes to set up and the same to pack down.

My parties are always very interactive with the young participants sitting down only for short periods during the show where they are still fully interacting by clapping their hands, calling and responding and laughing their heads off. My entertainment is always about having fun for the whole family. There is nothing vulgar, smutty or innuendos in the contents of my shows. I don't need to resort to these tactics to entertain children and I don't believe in using this sort of entertainment to get the adults to enjoy the show, everything is on one level and the jokes and humor are just as much fun for the parents as for the children.

As a result of my passion and dedication for my work; I am one of the busiest children's entertainers and regularly get booked on weekends at least 2/3 months in advance .

I guess what I'm trying to say is; you can expect more from your entertainer's. There are plenty of us out there who do this for a living and for whom this is not a 'fill in' or 'part time' job. To get the best; talk to your friends and colleagues, collect recommendations, watch the entertainer's at the parties of your children's friends and use entertainers that maintain high standards.

Children only have a party once a year and only for the shortest part of their life. I believe these experiences should be nothing short of magical and I believe it is worth taking the time to get it absolutely right. Don't you?
Contact Silly Scott today, via the details on the contact page, for quality children's entertainment in Portsmouth, Hilsea, Fratton, Southsea, North End, Milton, Baffins, Havant, Bedhampton, Portchester, Waterlooville, Purbrook, Widley, Cosham, Drayton, Copnor, Stamshaw, Tipnor, Farlington, Eastney, Southwick, Denmead, Cowplain, Horndean, Catherington, Port Solent, Emsworth, Hayling Island, Thorney Island.